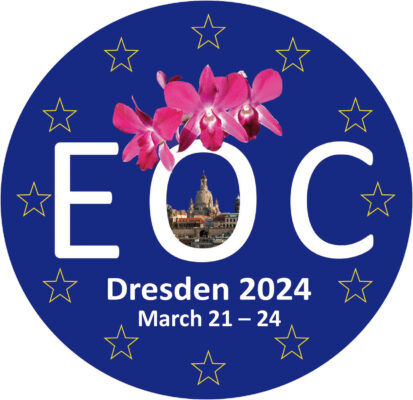 From March 21 to 24, 2024, the German Orchid Society will host the European Orchid Conference 2024 (EOC 2024) as part of the DRESDEN EASTER fair. All interested parties are kindly invited to attend. The preliminary programme can be found below. Further information such as topics of the talks, a list of exhibitors, the possibility of registering as a conference participant, exhibitor or judge as well as proposals for accommodation and excursions will be made available later on this website.
Program (preliminary)
Opening hours: Thursday to Sunday from 10:00 a.m. to 6:00 p.m.
Registrants can enter the exhibition daily from 8:00 a.m.
before the public is admitted at 10:00 a.m.
Wednesday, 20 March 2024
08:00 a.m. Admission for Judges only
09:00 a.m. Briefing of Judges
10:00 a.m. Ribbon Judging
12:00 a.m. Lunch Snack
01:00 p.m. Medal Judging
03:00 p.m. Election of the Champions (of the show in each category)
04:00 p.m. Admission for Registrants and Guests of Honour
05:00 p.m. Opening of the EOC by the Mayor of the City of Dresden (together with Judges, Registrants and Guests of Honour)
Thursday, 21 March 2024
11:00 a.m. Opening of the Fair with the Naming of an Orchid
02:00 – 05:45 p.m. Conference Lectures
Friday, 22 March 2024
10:00 – 12:45 a.m. and 02:00 – 04:45 p.m. Conference Lectures
07:00 – 11:00 p.m. "Night of the Orchids"
Saturday, 23 March 2024
10:00 – 12:45 a.m. Conference Lectures
08:00 p.m. Gala Dinner
Sunday, 23 March 2024
11:00 a.m. Award Ceremony